Main Lodge Suites
Enjoy the mountains with elegance.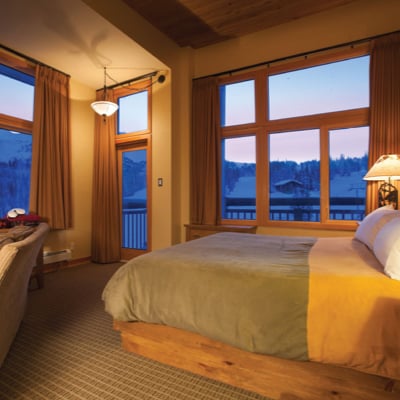 Ideal for couples and young families
These spacious rooms are located in the main wing of the lodge. Settle into the inviting comfort of these suites and enjoy a peaceful night in your king size bed, unwind by the fireplace, take in the mountain views from your private balcony and soak in the spa-like bathroom. These rooms feature king beds, with a double pull-out sofa.
Each of the eight Main Lodge Suites have its own unique floor plan. Please call 1-877-542-2633 to find a Suite that's best for you.
Amenities
In Room
King bed and pull-out couch double bed
Cable Television
Flat Screen TV
Hair dryer
Telephone with voicemail
Windows that open for fresh mountain air
Keurig coffee maker
Home alarm clock, docking station for your iPhone or iPod
Lodge
One of Canada's largest outdoor hot pools.
Sauna (Cedar-lined dry sauna, co-ed).
Free WiFi
Humidifier
Games room with pool table, jukebox and arcade games.
Family room with sofas, big screen TV, wood-burning fireplace and board games.
Complimentary equipment locker located conveniently in the basement of the new West Wing. Each locker has space for equipment, including boots, helmets and outerwear. A boot drying rack is available. (Please note we do not allow equipment in the lodge rooms or public spaces).
Nightly hotel activities
On Request
The following amenities may be available in selected hotel rooms at the Sunshine Mountain Lodge. Please indicate the request in your online hotel reservation, or ask one of our reservation agents.
Crib
Kettle
Iron and ironing board
Dining
Looking for a place to dine while staying at Sunshine Mountain Lodge?
Additional Information
How To Check In
Lodge Activities
Hotel Policies
How To Check In
Check-in is inside Creekside Lodge at the gondola base. Guests are greeted by an agent and the reservation is confirmed. Once the guest has checked in and checked their luggage, we will transport checked items to the Lodge. Guests will be given preferred parking at the Sunshine base.

Guests will be directed to the gondola for the short ride to the top.
Gondola hours are Saturday - Thursday: 8:00 a.m. - 5:00 p.m. and Friday: 8:00 a.m. - 10:00 p.m.
Once at the Village Level (at the top of the Gondola), the hotel is a short walk away. Proceed to the lobby, where you'll complete the check-in process. At the front desk, guests will give name and credit card details, receive room keys and more info on the hotel experience and facilities.

For those wanting to get on the slopes straight away, we have dressing rooms available at the base check-in. All checked luggage will be placed in your room by 4:00 pm. For that reason, we recommend that you carry all essential, valuable or breakable items with you. Day storage for these items is available at the concierge desk, located on the lobby level of the Lodge. As space is limited, the limit is one medium size bag per room in day storage.
Please note that access to lodge rooms is not guaranteed until 4:00 pm.
To contact the reservation desk email reservations@skibanff.com or call Guest Services at 1-877-542-2633.
Lodge Activities
In addition to our array of amenities and services, the Sunshine Mountain Lodge is happy to offer fun activities to guests staying at the Lodge. Learn more.
Hotel Policies
Resort Fee
During your stay at the Sunshine Mountain Lodge, we invite you to take advantage of the benefits of staying at Banff's only ski-in, ski-out hotel. We proudly offer a wide variety of activities and services that are available to all guests through our resort fee program. This includes internet access, fitness centre, hot tub and sauna, reserved VIP parking and so much more. The Resort Fee is $15 CAD per day, plus tax.
Quiet Policy
The Sunshine Mountain Lodge is proud to offer our guests a calm and quiet atmosphere within the lodge floors and rooms. We ask that all of our guests co-operate by keeping the volume level in their rooms to a minimum. Voices and foot traffic in the hallways, especially in the early hours, can be heard for some distance. Please respect fellow guests and keep the noise level to a minimum.
Alcohol Policy
Guests of the Sunshine Mountain Lodge are asked to bring only limited quantities of alcohol with them to the hotel. Alcohol is only permitted in guest rooms and is prohibited in all other areas of the hotel including, but not limited to: hallways, lobbies, common rooms and food & beverage outlets.
Cancellation Policy
Reservations may be cancelled at no charge, any time, up to 15 days before your arrival. Should you cancel within 14 days of your arrival date, you will forfeit the deposit.