Tuesday, September 15
New Sprung Tents In The Village & Goat's Eye.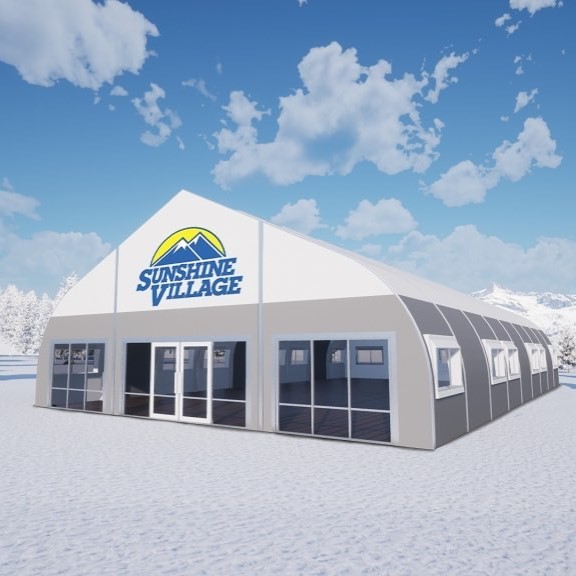 Sep 15, 2020
New Sprung Tents In The Village & Goat's Eye.
Winter is coming, YAHOO!
We at Banff Sunshine Village are getting ready to welcome you back to the slopes, with more lodge space.
As our team prepares for winter 2020/21, we look forward to welcoming you back to the Canadian Rockies for some serious fun winter re-action. At Banff Sunshine, our guests, team members, and community's health and safety are our number one priority.
With a focus on safety, we are pleased to announce that we have secured two Sprung Tents that will serve as temporary lodging facilities. Each sprung tent will provide additional square footage of 4,500 ft, for a total of 9,000 additional square footage to our lodging for the upcoming ski and snowboard season.
Our new Sprung Tents will find their temporary homes at Goat's Eye and in our village. The Goat's Eye Tent will be adjacent to our current Goat's Eye Lodge, and the one in the village will be beside our Old Gondola Sliver (which is currently being transformed into a picnic lunch area) in our village area.
Like Banff Sunshine Village, Sprung Structures is an Alberta Based multi-generation family business. Founded in 1887, Sprung Structures has been in the tent business for 133 years. Back in 1887, the company was known for its canvas tents, teepees, and wagon covers.
Our relationship with Sprung Structures goes back to the early 1900s to the "Teepee Town" campsite, which once stood where the base of our Teepee Town Luxury Express now stands. Our high-speed luxury express is named after the tent village and the early settlers and surveyors who once called the campsite home.
Although the upcoming winter will look and feel slightly different from previous winters, we at Banff Sunshine Village are committed to your health and safety. With our new Sprung Tents, we'll have more space for you to warm up while ensuring proper social distancing.
For more information on "What to Expect This Winter", click on the link below.
We look forward to welcoming you back to carve up Canada's Best Snow, come November.
Stay tuned to our Sunshine Times and our Social Media for our most recent updates.
---