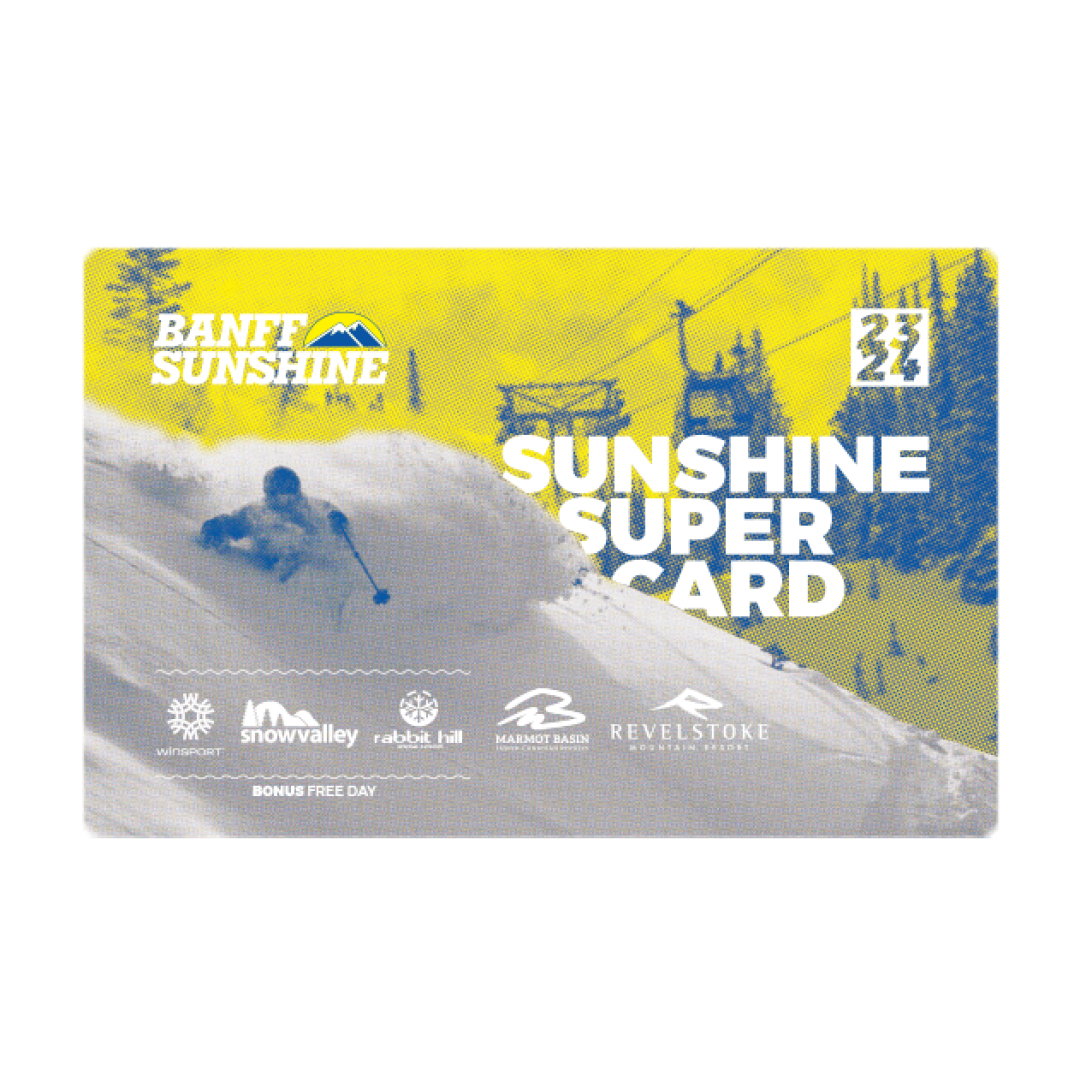 MOBILE /
Direct-to-Lift
SUPER CARD
Which Sunshine Super Card should you choose?
HOW IT WORKS.
3 FREE DAYS OF SKIING OR RIDING:
Your 1st, 4th and 7th VISITS ARE FREE and can be redeemed at either Banff Sunshine Village, Jasper's Marmot Basin, Revelstoke Mountain Resort all 2023-2024 season long.**
The Sunshine Super Card is non-transferable and only valid for the 2023-2024 season. Not valid with other coupons or discounts.
The Sunshine Super Card must be presented at the time of transaction to accumulate usage and receive eligible discounts and benefits.
ADDITIONAL SAVINGS ON ALL OTHER VISITS TO SUNSHINE VILLAGE:
$50 OFF! November and May*, and Midweek days* (Monday through Thursday) at Sunshine Village.
$30 OFF! on Weekend days (Friday to Sunday)
$30 OFF Discount Days apply on the following midweek dates December 25th, 2023 to December 29th, 2023; February 16th & 19th, 2024; March 25th, 2024 - March 29th, 2024; April 1st, 2024; May 20th, 2024. Every time you use your card at Sunshine Village, you receive at least a $30 OFF.
ADDITIONAL SAVINGS ON VISITS TO MARMOT BASIN AND REVELSTOKE MOUNTAIN RESORT
*Same conditions as above apply.
DISCOUNTS & SPECIAL SAVINGS:
Sunshine Super Cardholders also receive special savings with participating hotels, restaurants, ski resorts, and other vendors.
1 BONUS FREE DAY AT EITHER WINSPORT, RABBIT HILL OR SNOW VALLEY AND SAVE UP TO 50% OFF ADDITIONAL SKI/RIDING VISITS.
To redeem bonus free day at either WinSport Canada Olympic Park in Calgary or Rabbit Hill (Mon-Fri only) and Snow Valley in Edmonton, card must be registered online 24 hours in advance at skibanff.com/card. Bonus free day and discount day usage cannot be used towards free days at Sunshine Village, Marmot Basin or Revelstoke Mountain Resort. Bonus free day and discount days may be subject to restrictions, blackout dates and the card is non-transferable.

Winsport – Calgary
Sunshine Super Cardholders, please visit Guest Services at WinSport to redeem your bonus day.
Additional discount days are offered for the SSC. Please call Guest Services at 403-247-5452 to purchase. Discount days are $29 per ticket plus GST.
Note: SSC offers are not valid during blackout dates.
December 23rd, 2023 - January 7th, 2024
February 17th, 2024 – February 19th, 2024

Rabbit Hill – Edmonton
Bonus Free Day available midweek Monday-Friday only.
Bonus free day and discount days available at ticket window and guest services.
Snow Valley – Edmonton
Bonus free day and discount days available at ticket window and guest services.
All Sunshine Super Card sales are final and non-refundable.
Child Pay As you go
Skiing with your kids, or grandkids this winter? Child Pay As You Go is only $69 and your first day is FREE! Plus save $10 off regular priced tickets all season long. No need to visit the ticket windows.
REGISTER YOUR CARD
Super CARD BENEFITS
Here you'll find all the benefits you will receive with your
Sunshine Super Card
WHERE DO I BUY
A SUPER CARD?