Sunday, December 8
Como Sobrevivir A Tu Primer Día Esquiando En Sunshine Village.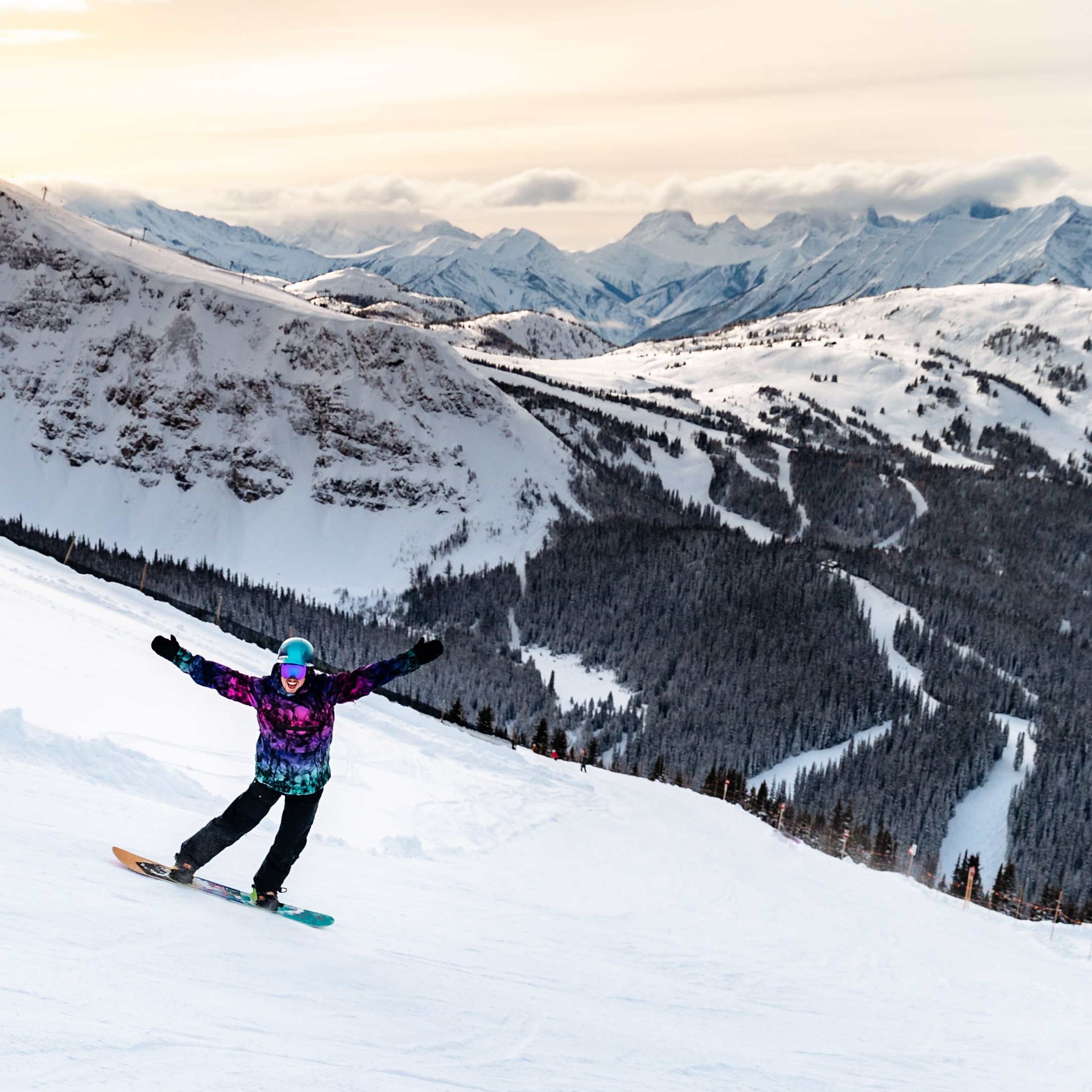 Dec 8, 2019
Como Sobrevivir A Tu Primer Día Esquiando En Sunshine Village.
No tienes que ser un niño para aprender a esquiar o hacer snowboard, puedes aprender a cualquier edad y desde cualquier nivel.
Si quieres que tus primeros descensos en Sunshine sean divertidos e inolvidables, esto es lo que debes hacer:
1. Infórmate antes de salir de casa
Siendo tu primer día en la nieve, probablemente estarás nervioso y tendrás muchas cosas en la cabeza, así que planear tu visita a la estación de esquí unos días antes puede ahorrarte momentos de estrés cuando llegue el gran día.
Banff Sunshine Village está dividida en dos áreas, la Base y el Village. Mira los mapas aquí.
La Base es la zona donde vas a prepararte para empezar el día. Como su nombre indica, se encuentra en la base de la montaña, justo al lado de la zona de estacionamiento. Al llegar, localizarás dos edificios: Creekside Lodge, con la escuela de esquí, atención al cliente, una tienda de ropa, los baños, un bar y un restaurante; y Bourgeau Lodge donde se encuentran las ventanillas para comprar los pases, el alquiler del equipo, vestidores con casilleros/taquillas para guardar tus cosas y los baños. Recuerda llegar con bastante tiempo de antelación ya que, dependiendo de las fechas, el tiempo de espero podría variar.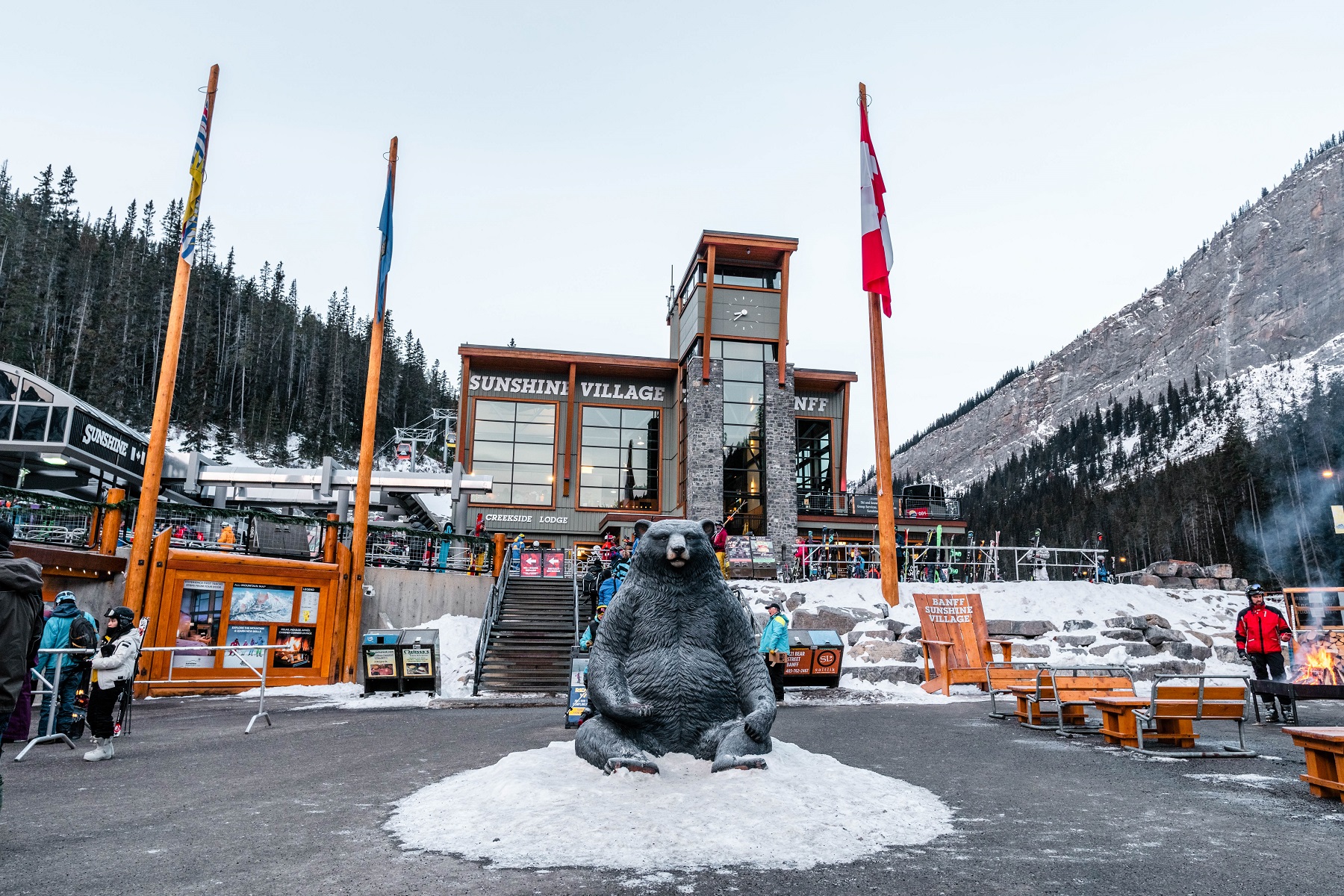 Una vez estés preparado con tu pase y equipo deberás subirte al teleférico/góndola (también conocida como "el huevo"). La góndola hace un recorrido de 5km y tarda unos 20 minutos haciendo dos paradas, una en Goat's Eye, y otra en el Village. Si eres principiante, te recomendamos bajar en el Village. Si lo tuyo son las pistas azules y negras, Goat's Eye es una buena opción para ti.
El Village es el núcleo de la estación de esquí. Desde aquí podrás subirte a las telesillas/remontes y encontrarás los siguientes edificios: el Centennial Lodge, con restaurantes, una tienda de ropa y los baños; Old Sunshine Lodge, con la escuela de esquí y el bar restaurante "Mad Trappers"; Sunshine Mountain Lodge, con el hotel, cafeterías y restaurantes, spa, piscina y una tienda de ropa; y el Salomon Demo and Service Centre por si deseas alquilar equipo o tienes algún problema con tus esquís o tabla de snowboard.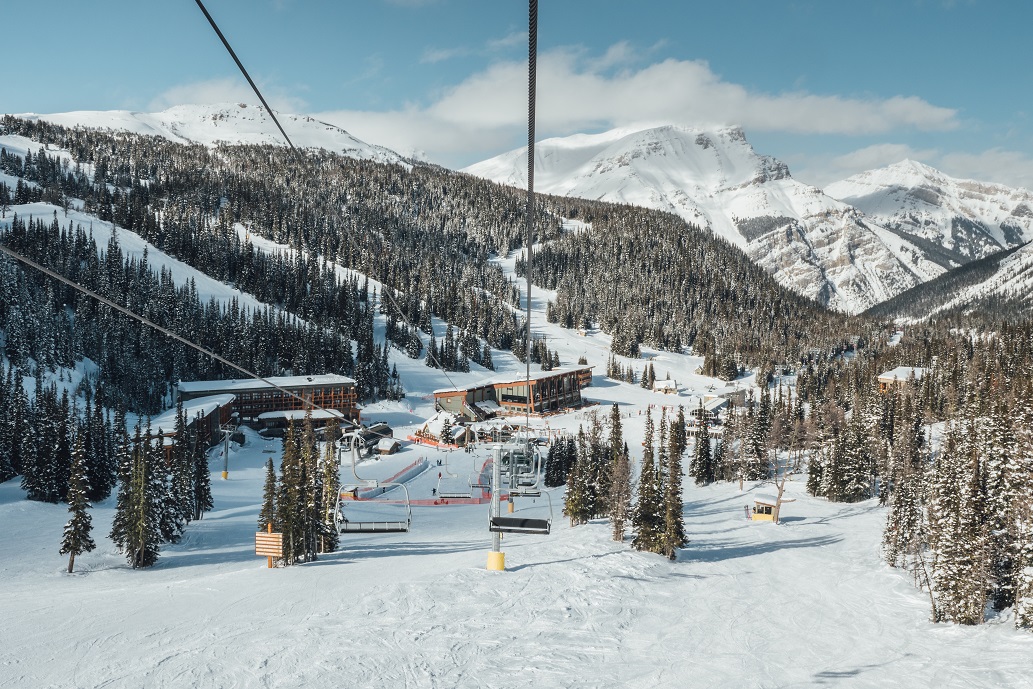 2. Di SÍ a clases con instructor
Lo más importante para empezar a practicar deportes de invierno son las ganas, y nuestros instructores de la Escuela de Esquí y Snowboard te proporcionaran toda la energía y motivación necesaria para levantarte tras cada caída.
Empezar algo nuevo es siempre una aventura, pero estamos seguros de que luego de unos intentos no habrá quien te pare. Ya sean clases particulares o en grupo, la diversión está garantizada. Lo ideal es tomar más de una clase para que puedas disfrutar de las montañas y aprender las bases del esquí a tu ritmo.
En Sunshine Village existe el Paquete del Principiante o "First Timer Package" que incluye el pase de un día, el alquiler del equipo de esquí o snowboard y 4 horas de clase en grupo con un instructor (de 10:30 a 15:30, con un descanso de 1 hora). Los precios fluctúan entre los $149 para los niños (6 a 12 años) y los $219 para los jóvenes y adultos (13+). Ten en cuenta que los precios no incluyen el 5% de impuestos y que pueden variar según la temporada. Puedes consultarlos aquí.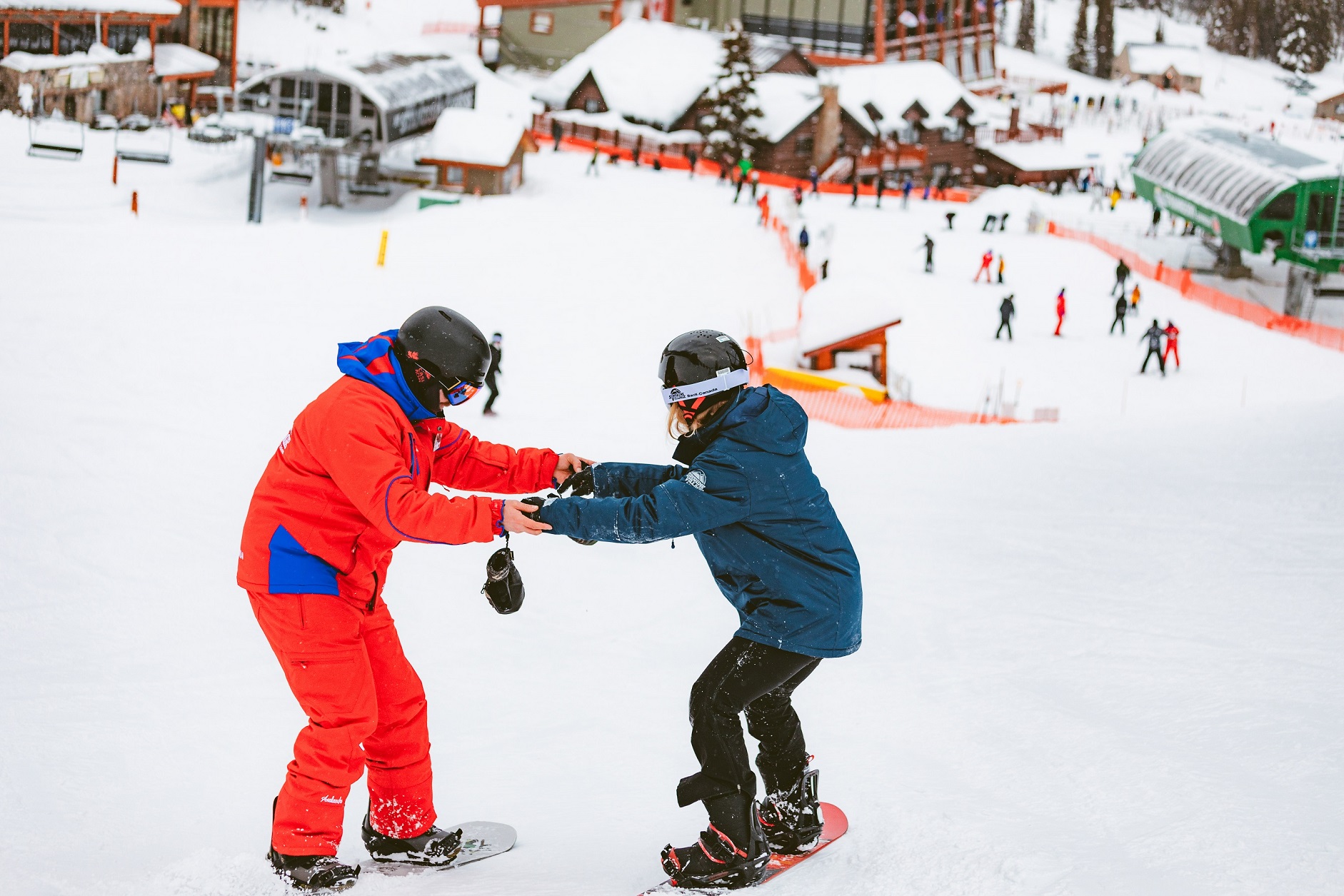 3. Utiliza el equipo adecuado.
Cuando practicas deporte de nieve, tener el equipo y la ropa adecuada son super importantes. En Sunshine Village contamos con una excelente línea de esquís de nivel básico y professional, así como snowboards, palos, botas y ropa de nieve.
Nuestro equipo de especialistas te ayudarán a encontrar el equipo que mejor se adapte a tu medida y nivel de esquí o snowboard. Para asegurar que tu día fluya con normalidad, te recomendamos alquilar el equipo y/o ropa antes de subir al teleférico/góndola. Puedes encontrar la tienda de alquier o "Rental Shop" en Bourgeau Lodge en el área base.
4. Empieza en las pistas fáciles.
Las pistas verdes son las más amigables para desarrollar confianza y destreza esquiando.
En Sunshine, puedes empezar con unos descensos en la cinta transportadora "Mighty Might", el remonte más sencillo de usar para los principiantes. Cuando te sientas más a gusto en la nieve, toma el telesilla "Strawberry Express" para probar las pistas de principiantes más populares, "Dell Valley" y "Rock Isle Road".
Cuando estés listo para descensos más largos, dirígete a los telesillas "Standish Express", "Wawa Quad" o "Angel Express", que son accesibles desde el Village. Hay también increíbles pistas verdes desde los telesillas "JackRabbit" y "Wolverine", para llegar a ellos deberás esquiar "Banff Ave" desde el Village. Haz click aquí para ver el mapa de pistas.
Recuerda siempre tomártelo con calma y parar de vez en cuando a descansar. La mayoría de las lesiones ocurren al final del día cuando los esquiadores empiezan a estar cansados.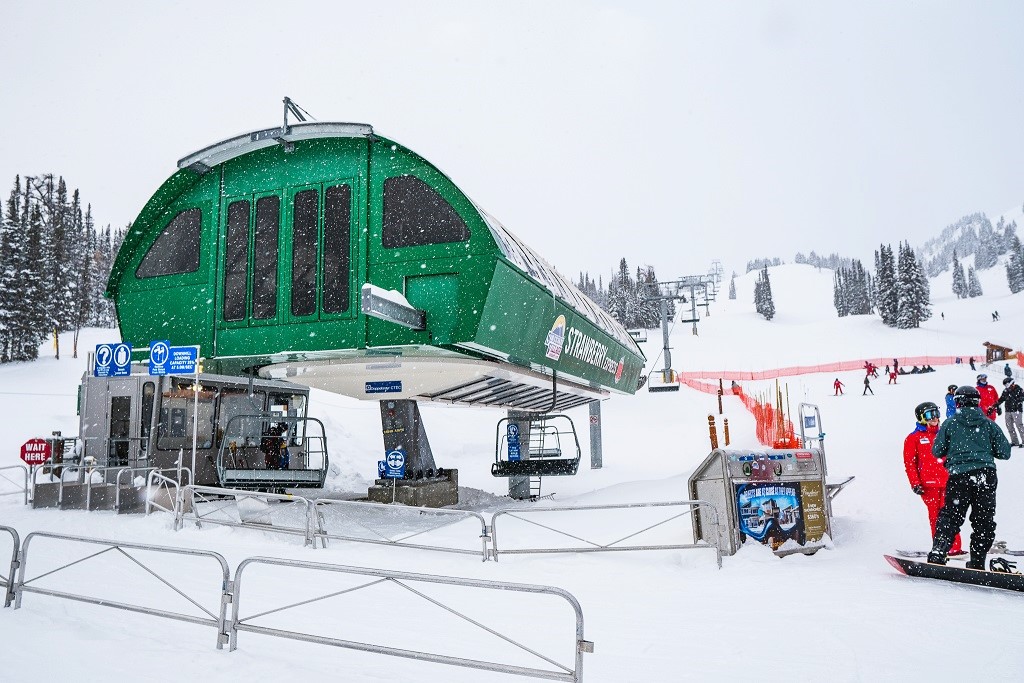 5. Inmortaliza el momento con fotos y videos.
Sunshine Village pone a tu disposición una red de wifi gratuito en la estación de esquí para que puedas compartir tu progreso y diversión en tiempo real con tu familia y amigos, incluso desde la cima de la montaña.
¡No olvides compartir tus fotos e historias usando #sunshinevillage y @sunshinevillage!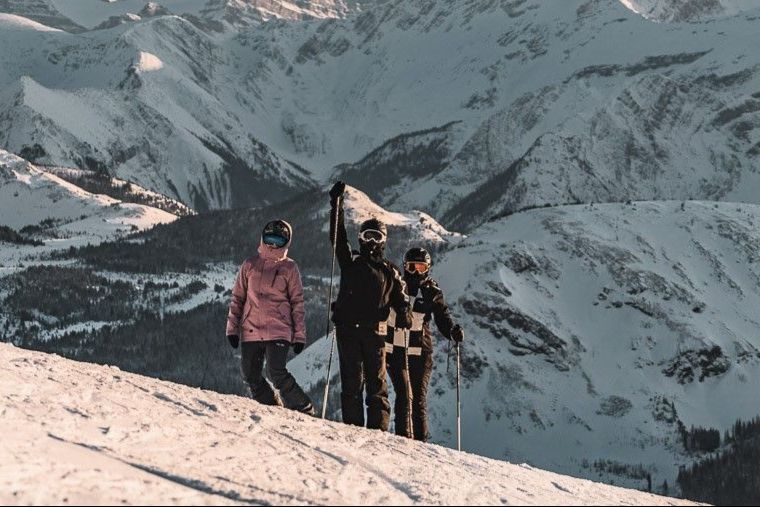 6. Disfruta del Après-Ski.
Después de todo el día aprendiendo en la nieve, te mereces un descanso. ¡Relájate y disfruta del entorno natural en el que te encuentras tomando algo con tu familia y amigos!
Hay un montón de restaurantes, bares y cafés en la montaña donde puedes terminar el día y disfrutar de la estación: en la Base encontrarás: Java Station y Creekside Bar & Grill; en el Village: Mad Trappers, The Alpine Grill, The Lookout y The Sunshine Burger Company; en el hotel Sunshine Mountain Lodge: Java Lift Café, The Chimney Corner y Eagle's Nest Canadian Bistro; y Goat's Eye Grill en Goat's Eye.
Al mismo tiempo, durante la temporada de primavera, ¡se organizan conciertos de música en directo! Un ambiente realmente único y que aumenta las ganas de volver al día siguiente.