Tuesday, October 17
6 things you can do this shoulder season to start winter off on the right (ski) boot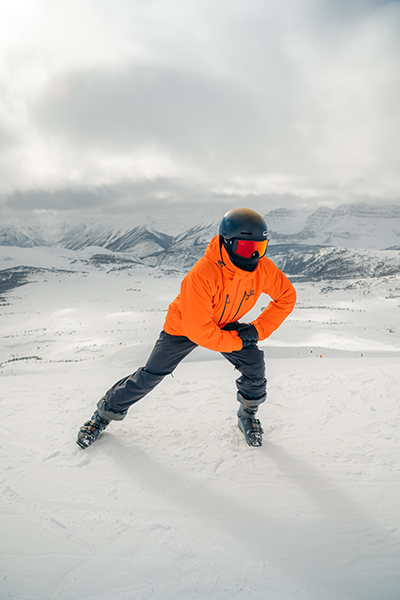 Oct 17, 2023
6 things you can do this shoulder season to start winter off on the right (ski) boot
Winter is coming!
As we patiently wait for winter's arrival, us snow fanatics here up at Banff Sunshine are getting excited just thinking about snow!
We've spent the summer hiking up an appetite for winter. While the mountain transitions from untouched acres of wildflowers in bloom to blankets of Canada's Best Snow coating the slopes of Sunshine Village, we are less than 30 days away until the gondola starts turning once again, but this time, with Canada's Best snow!
Shoulder season is an opportunity for Sunshiners to kick off their hiking boots, take a break and prepare for our favorite season of all... WINTER!
While we dream of the most wonderful time of the year over these next few weeks, here are 6 things you can do this shoulder season to start winter off on the right ski or snowboard boot.
1. Stretch!
During shoulder season, try incorporating stretching into your routine. Stretching regularly increases your ability to use your muscles to their full potential on the slopes and decreases the risk of injury while carving up Canada's Best Snow. Add stretching to your to-do list!
2. Download the Banff Sunshine Village mobile app on your smartphone!
Have your mobile tickets at the touch of your phone. SHRED YA!!!
Track your distance and days on the slopes this season, by turning your location on while carving up on Canada's Best Snow with the Banff Sunshine Village app.
3. Familiarize yourself with our après menu!
A day at Sunshine Village isn't complete without a stop at Mad Trappers, the oldest building at Banff Sunshine. Read the menu here, so you know what snack (and drink,) you'll be finishing off your day with.
4. Buy your seasons pass and book your multi-week ski lessons!
No question about it, the Sunshine seasons pass is your all access pass to securing your spot on Canada's Best Snow. Make this season the best one yet, go from snow bunny to shred expert with our multi-week ski and snowboard lessons.
5. Prep your gear!
Start your season off with a fresh wax and sharpening from your local ski shop. Did you know that with your Sunshine winter seasons pass, you get 15% off full rental packages and tuning? Visit our friends at our rental shop this season, and show them your pass!
6. Follow us on Instagram!
Get your Sunshine stoke on with photos and updates posted daily on our Instagram. Stay in the know about the snow, follow @sunshinevillage on Instagram. The winter season starts November 9th, 2023 (Mother Nature dependent!)
Got a Little Sunshiner in your life? Follow @littlesunshiners on Instagram and tag us to be featured on our page!
We'll be carving up the slopes of Banff Sunshine faster than you can say, "Canada's Best Snow!"
Powder-filled, blue-bird days carving on Canada's longest non-glacial ski season is right around the corner! We are counting down the days until our slopes are, once again, coated in Canada's Best Snow.
It's (almost) the BEST time of the year!